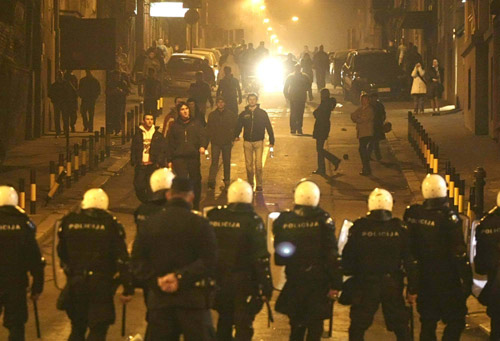 Since Kosovo declared independence Belgrade has become a warzone. Radicals are burning and looting, and ordinary people are confused - five days ago they were concerned with Kosovo, today they are concerned with the possibility that drunken hooligans may smash their heads with rocks. Kosovo is far away, radicals are just around the corner, breaking windows and setting buildings on fire.
The Belgrade riots are a symptom of a failed political movement. Nationalism has nothing to offer, no strategy, no plan, no political vision. Unlike Gazimestan in 1989, where Milosevic faced a crowd much bigger, crowd consisted of people that were calm and determined, Kostunica today faced people without a clue. Unlike Milosevic who promised war and revenge, Kostunica has nothing to promise, nothing to offer. He can only complain.
You can tell the day by the dawn. Nationalism is finished in Serbia, nationalism has nothing to offer except self destruction. We just need to wait for the mob to get tired of rioting, come out and continue the peaceful protest that started two weeks ago, protest led by Belgrade students, protest with a clear goal - European integration. 
Boris Tadic was in Romania, while Kostunica was giving a speech together with Nikolic. This may prove to be a big blow to Kostunica. The message is more than clear: Serbian interests are better served with diplomacy than with speeches followed by looting. The contrast between Tadic and Kostunica is clear and will undermine Kostunica's base of support in the months to come.
Today there was only one place for Tadic to be - Romania. For us, there is only one thing to do today - not to criticize Tadic for Romania, but to start bringing down Kostunica.