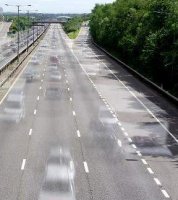 When it gets really HOT, we turn on the fans and air-conditioners and complain about the heat, and then we book holidays at places on the seaside where it is even hotter. What we do not do, as I have just begun to appreciate, is to stay in Belgrade.
There is a mixed blessing about staying behind in the White City during August. The streets are empty if you wish to drive your car, but often there is no one waiting for you at your destination. There are fewer people in lines in the supermarket, but much of what you need to buy will not be stocked until September.
Your dry cleaner has gone to Turkey. Your hairdresser is in Greece. The guy in the kiosk only stocks his own favorite cigarettes and newspapers. The DVD guy on the corner is not (on the corner). No chance of getting your car fixed before next month. And your friends have their answering machines and auto-responders running. You start to wonder if you are actually here or not....
Maybe it's all a dream?
You spend your days in the office dialing numbers which do not answer, writing emails to overflowing inboxes, and chatting with your bank manager about fly-fishing. Most plans begin with the phrase: "When I get back, we can..." Most conversations end with: "Enjoy your time in..." And all the while you are still sitting there wondering if you are at your desk or a character in a Kafka novel.
Belgrade in August is a ghost city. I still have the impression of hearing horns blaring from my windows from the traffic below, even if I can see no cars. Of the twenty-six people left here, I am still able to find the most cantankerous one who will fight me over a parking space in an empty garage.
There is a stigma, moreover, about being the guy who stays in August. We have all heard people go on about. "Oh! I love being here in August! It's so much nicer!" But most of these people are singing this tune in July as they pack their bags. The fact is that NO ONE wants to be here in August. When I eventually do reach a fellow sufferer, they quickly deny that they are here or make excuses. People will say anything to show that they have so many better things to do in August than stay in Belgrade and work. For just a few examples:
I am leaving tomorrow for Swaziland.
I just came back for a day to consult my astrologer (usually people will say bank manager, but we know)
I am waiting for my wife/husband/friends/alien invaders to arrive so we can leave together.
I left the iron plugged in.
My dog misses me when I am away for too long.
Those who know will know that all five of these are DIRECT QUOTES from REAL PEOPLE. People who are no longer in Belgrade. People who have escaped the shame of having to work in August in the White City.
So here we remain. We do not admit to each other that we are here. When we see each other on the street we avoid wondering glances ("What's he still do here" say the glances). When people call on our cell phones, we pretend that we are at the airport.
I would like to write more about this phenomenon, but I am extremely busy watching the paint peel in one corner of my office just now.
Can we finish this in September?