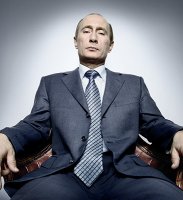 The weather in Belgrade today: sunny skies, highs in the mid to upper teens, and a high chance of Vladimir Putin, clearing by evening or overnight.
Back in Iowa, on winter mornings, we would listen to the radio to see if school was cancelled because of heavy snow. Later, in Saudi Arabia, we would wait to hear if school was cancelled because of unbearable heat or sandstorms. In Belgrade, however, we have another phenomenon which should cause the schools to close, stop all traffic in the city, and disrupt life in isolated incidents and pockets of local disturbances.
We get Foreign Dignitaries.
World leaders and heads of state whiz in and out of London nearly unnoticed. They land in Paris and depart before anyone knows it. In New York it is just another day when they are in town. But in Belgrade, the arrival of a world leader places us in suspended animation for the hours of his or her visits. The police close down streets all over the city - just in case the Leader wants to use them for the motorcade. It is likely that the police are not even fully informed about the Leader's itinerary, so they close a few extra boulevards and highway sections just in case.
Traian Băsescu, Joe Biden, Dimitry Medvedev, Hillary Clinton, among others. And today, Putin.
We know they are coming. We change all of our plans for that day. We cancel and postpone appointments. We park our cars for the day (or we should). And we get ready for their visits like a severe weather warning. Those of us who insist on trying to drive around town may be blocked for hours, waiting for the diplomatic high pressure front to subside. Sometimes we are not even allowed to WALK in certain places.
It must be a satisfaction for a world leader to visit the White City on the Danube.