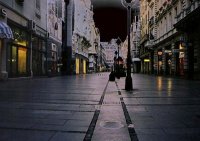 Shhh.... Belgrade has gone to sleep.
There was a time, though, when the White City on the Danube woke up at midnight. It was perfectly normal for people to make arrangements to meet at and around midnight when the movable feast of clubbing and cafes and bars and even restaurants would bestir itself, singing and playing into the wee small hours of the morning.
Or at least so they tell me.
They have to tell me these things because I am far more likely to be recruited by the group of grumpy old (and young apparently) guys calling themselves "Beograđani protiv noćne buke." They are currently proselytizing around town and have even lobbied the Powers That Be into the early closings of clubs and bars and other noise factories which used to work throughout the white nights of the White City.
Why me? I am guilty of liking to sleep at night. I have grumbled about midnight hooting in the street. Given a wide array of choice, I would not be likely to choose hearing turbo-ethno-neo-stupid music blaring into my window far above the decimal limit for humans when I am trying to sleep.
As an American living here for ten years, the (former) legendary nightlife of Belgrade has always been the stuff of stories that foreigners ask me when arriving here. They want to know if it is true. For my own reasons, I have never really experienced these nocturnal habits so I tell them all that I know: "that's what they say."
But the move to close down the merry-makers cuts in two ways. The first is to appease the Middle Aged Lynch Mob, and the second is (of course) to rake in a few extra dinars. Most bars and restaurants have been used to keeping the music playing and wine pouring into the night, until the last stragglers actually straggle out. In reality, most of them are probably licensed only until midnight. After midnight, you need to apply for special permission to be open. This, clearly, ka-chings in the municipal coffers.
The city is now enforcing the noise laws and the closing hours with surprising strictness - in the hopes, I believe, of forcing establishments to cough up for the extensions to their licenses. But the opposite seems to have happened. Walking around Belgrade at around ten in the evening, the sidewalks are already being rolled up and stowed away. Places that can and should be open until eleven or twelve will now close even earlier - the night owls have flown, knowing that the music will stop at 23.00 and the wine at midnight.
As a result, downtown Belgrade at night has become a desert, inhabited only by polystyrene cows and wandering lost souls wondering where everyone went. The Beograđani protiv noćne buke watch from their laced windows with smug smiles as Belgrade transmogrifies into Geneva.
And they turn to me and nod knowingly, looking for my complicity in the plot to put a damper on the city. But I cannot. I think one might be reminded of at least one irritating fact when sitting before the Quiet Committee.
To wit: Belgrade is a city. Clarification: Belgrade is NOT a country town of 26 people, two (real) cows, and a smattering of random chickens. In this condensed mass of two million odd people, we have to admit to ourselves that there WILL BE a little noise.
And by the way, I have lived near farms before. These animals make the worst noises at the earliest hours. Please sign my petition against Night Nature.
 -------------
Photo by Vojin Jankovic