Kad nas je onomad strefila "Tamara" (to je onaj ciklon koji nam je doneo "hiljadugodišnje" poplave) društvene mreže su se "usijale" od raznih teorija zavere, počev od HAARP-a, preko chemtrails "zaprašivanja", pa sve do sukoba belih i crnih magova oko prevlasti nad "srBskim energeCkim poljima". "Presudu" je donela naša politička elita i za sve na kraju bi kriv sam Gospod Bog.
U ponedeljak, dvadesetog juna, leta Gospodnjeg 2016. nad prestonicom naše "nebeske" Srbije, desio se još jedan dogadjaj (po prvi put u novijoj istoriji ... ali stvarno). Ovako je na satelitskom snimku izgledalo formiranje super-ćelije ...
A šta je super-ćelija? E pa to je ono što u Americi izaziva tornada. Mi smo još i dobro prošli pošto konfiguracija našeg terena nije takva da nas tornada vole (mada je u Pančevu primećena "tromba" a.k.a "pijavica"). Doduše grad je napravio lom po mestima gde je nevreme prošlo ali prave nevolje su zadesile naše komšije gde je super-ćelija skupljala dodatnu snagu i na kraju stigla do bratske Rusije (i posle čik da neko kaže da mi nikada u istoriji nismo bombardovali Ruse!)
Naravno da je i povodom ovog ne tako čestog ali ipak potpuno prirodnog dogadjaja, krenula lavina komentara po društvenim mrežama kako nam opet ta zla osovina CIA-Vatikan-Masoni izaziva haos u državi (valjda da bi zaustavili "reforme" ka kojima grabimo svom snagom) no samu pojavu su dan pre toga očekivali svi koji se u meteorologiju razumeju (ili bar znaju da čitaju meteo-upozorenja). Ekipa sa SerbianMeteo foruma (istog onog koji je ranije objašnjavao "Tamaru"), od ranog jutra je čekala gde će doći do formiranja super-ćelije. Veče pre toga, ESTOFEX portal (Evropski eksperimentalni sajt za predvidjanje oluja) je izdao upozorenje nivoa 3 za koje ljudi sa foruma kažu da je tek po drugi put u periodu dužem od 10 godina, izdato za područje Beograda. "Nanjušili" su i da ima uslova za stvaranje tornada. I Republički hidrometeorološki zavod je izdao neko upozorenje ali je ono bilo nekako "tunjavo" i nije nagoveštavalo da će se nešto ovako desiti.
No dobro, oluja je bila i prošla. Opet se pokazalo da smo kao društvo totalno nespremni za elementarne nepogode (bez obzira što se one i ne pojavljuju uvek iznenada ... bez "najave"). Vreme je svake godine sve nestabilnije (i mada meteorolozi tvrde da su to "uobičajene oscilacije", ne treba zanemariti istraživanja klimatologa, glaciologa i okeanografa koji ukazuju da se globalno zagrevanje ubrzava i da topljenjem Zemljinih polova rizikujemo zaustavljanje i promenu smera okeanskih struja što lako može da dovede do novog ledenog doba). Ne ulazeći u to šta je uzrok globalnom zagrevanju (tj. da li je u pitanju čovekovo bahaćenje sa emisijom ugljen-dioksida ili su to prirodni Milankovićevi ciklusi), činjenica je da živimo u dobu kada klima i nije bila toliko nemilosrdna prema nama. Pre par desetina hiljada godina, kolebanja su bila znatno veća te ne bi valjalo da ih svojim delovanjem opet pokrenemo.
Nego da se vratimo na blisku budućnost. Gde naći informacije o trenutnim vremenskim uslovima i koliko-toliko kvalitetne vremenske prognoze?
Prvi izbor (pogotovo za one koji ne vladaju stranim jezicima) je svakako ...
1. Republički hidrometeorološki zavod (RHMZ) ... http://www.meteo.rs
Ako zanemarimo "selfi" pobude trenutnog direktora (koji svojim portretom i najavama poseta kojekakvim kongresima po svetu) zauzima značajan deo prostora naslovne stranice (a što bi moglo mnogo korisnije da se upotrebi za sadržaj koji meteo-servis treba da pruža zainteresovanim gradjanima) i ako nemate potrebu da sajtu pristupate sa mobilnih uredjaja (gde ona prethodna zamerka pogotovo ima smisla), na naslovnoj strani možete naći trenutne temperature i opise vremena za veće gradove u Srbiji ... a i prognozu istih tih parametara za tekući ili naredne dane. Sve ostalo morate tražiti dublje (tj. "kliktati" više). Ostavljam vam da sami istražite šta se sve nalazi po "bespućima" sajta ali ono što treba napomenuti kao prilično korisno pomagalo kada se spremate npr. da krenete sa posla ... ili u provod u grad, bi mogla da bude radarska slika u (skoro) realnom vremenu gde možete videti da li vam nailazi neka nepogoda.
Još jedna korisna stranica (ukoliko živite u Beogradu ili Pančevu) su i podaci sa automatskih meteoroloških stanica.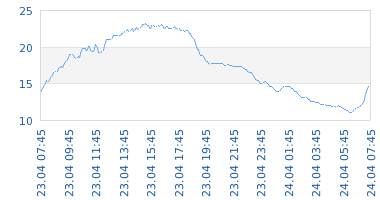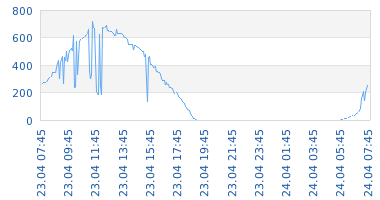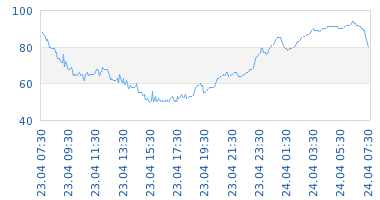 Ako ste pak vezani za reke, postoje na sajtu i stanja vodotokova kao i prognoze nivoa reka za naredni period.
Sve u svemu, ima dosta korisnih podataka ali korisnički interfejs nije baš user-friendly koliko bi to savremene ICT tehnologije omogućavale.
No dobro ... ipak želimo da vidimo malo više detalja o tome šta nas čeka u narednim danima. Možda bi bilo dobro "prisluškivati" šta meteorolozi (kako profesionalci tako i amateri) "čavrljaju" dok gledaju i analiziraju gomilu meteoroloških modela ... a za to je pogodan ...
2. Serbianmeteo forum ... http://www.serbianmeteo.com/forum/
Ovo je prilično neformalan sajt ali pruža interesantne "insajderske" informacije o tome šta nas čeka a bog'me ima i edukativnog materijala za one koji bi možda pokušali i sami da tumače razne dijagrame koji su izlaz iz numeričkih modela.
Dva osnovna odeljka su "Prognoze" (gde možete videti tumačenja modela i predvidjanje šta će da se desi u narednim danima) i "Aktuelne vremenske prilike" (gde gomila entuzijasta ostavlja svoja lična opažanja o nepogodama koje se približavaju i o njihovim posledicama)
No za one "lenje" koji ipak žele prognozu u nekom "tradicionalnijem" obliku, valja razmisliti i o nekim stranim sajtovima. Takvih ima puno i svako od nas ima neki svoj omiljeni ... koji je "najtačniji" (te vas ovom prilikom molim da sa ostalima podelite ta iskustva) a ja ću ovde preporučiti jedan koji ima globalnu pokrivenost i koji na "korisnički-drugarski" način prikazuje ne samo standardne parametre poput temperature i oblačnosti-padavina, nego i npr. očekivane promene pravca vetra, prognoziranu relativnu vlažnost vazduha, pritisak ...
3. Freemeteo ... http://freemeteo.rs
Sajt "prepoznaje" mobilne uredjaje (a postoji i u verzijama za Android i iOS) tako da se prilagodjava veličini ekrana. Daje vremensku prognozu meteo-parametara u rezoluciji od 3 sata a sadrži i istorijske podatke. Za razliku od sajta RHMZ-a, prikazaće i prognozu za proizvoljno izabranu lokaciju.
...
I za kraj da podsetim na priču o navigaciji i pomorstvu. Postoje i sajtovi na kojima se nalaze upozorenja za pomorce, medjutim Internet obično i nije baš dostupan kad ste na sred mora ili okeana tako da se pomorci uzdaju u radio meteorološke najave ... sajt je više pomoćno sredstvo. Sistem je inače podeljen na zone odgovornosti (METAREA's) a formati upozorenja su takvi da se mogu prenositi radio vezom glasovno ili tekstualnim uredjajima pri čemu je format čitljiv za čoveka. Slična je situacija i sa vazduPLOhovstvom. Od životne važnosti za pilota su meteo podaci sa aerodroma na koji sleće. Ti podaci su standardizovani kroz METAR (Meteorological Terminal Aviation Routine Weather Report) i TAF (Terminal Aerodrome Forecast) formate. Ovi formati zahtevaju mašinskog "prevodioca".
Pa da čujemo koji je VAŠ omiljeni meteo-sajt?