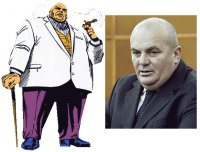 Brooding in his study, the Kingpin mused over his most recent ingenious plan. What good is it to continually try to destroy Spiderman when he eludes my every effort? I must now turn my attention to a diversion...he contemplated the thought with a wry smile on his face.
"I must have a giraffe," he concluded. The Kingpin had always been a secret admirer of the elegant long-necked beasts, in stark contrast to his own squat frame and imposing bulk. But in order to obtain a giraffe, it would not be enough to buy one - he could buy a menagerie of giraffes if he were so inclined. He would have to turn it into something inscrutably interesting.
"By the time I am finished, they will be lining up to offer me giraffes. I will put my weight behind it and bestow my favors only on he who brings me the BEST giraffe."
With one phone call, the wheels were already beginning to spin. Toma had a crocodile, but only Boris came up with the coveted African giraffa camelopardalis.
Krkobabic had only asked for a turtle.